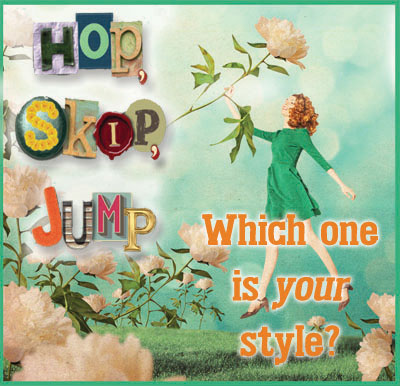 I'm a sucker for those online quizzes that show up every day in my Facebook feed. You know, the ones that tell you which state in the U.S. you'd be happiest in or how much of a tomboy you are. So I was definitely intrigued when I learned that author Marney K. Makridakis created a little quiz to go with her new creativity book, Hop, Skip, Jump: 75 Ways to Playfully Manifest a Meaningful Life.

What's Your Productivity Style?

You can take the quiz and find out your productivity style: hop, skip, or jump. Quickly defined, "hop" is dreaming, "skip" is experimenting, and "jump" is taking action. There are 16 multiple choice questions. If you take the quiz, you can get a "productivity pack" emailed to you. (It's optional; no need to input your email address if you don't want to.)

My Style is . . .

My dominant style is "skip." The description said, among other things, that I have a "natural craving for variety" (which could explain why I do wire work and stringing and metal work and beadweaving ... ). I found the quiz a little difficult because I think I act differently in a formal work situation than I do with my own projects. If I'm editing a book for someone, I'm not dreaming and experimenting, but taking action!

What About You?

If you take the quiz, I'd love to know your results. Did you think they were accurate?